In-Home Care & Caregivers
As our loved ones grow older, we begin to worry about them living on their own without having the support and compassion from someone that can ensure their well-being. At AstraCare, we make in-home care easy, by providing those you love some extra help without sacrificing their independence.
Our caregivers have been carefully selected for their impeccable service history. You can trust that our caregivers will be professional, understanding, compassionate, and
communicate in a way that you can easily understand.
Each caregiver has passed a comprehensive level II background check, and maintains extensive continuing education and training. They're fully licensed, bonded and insured.
Call AstraCare for proven outstanding service!
AstraCare has built a reputation of being trusted and reliable.
We provide peace of mind while optimizing the quality of life for you and your loved ones.
What We Do
Ensure that our client's wellbeing is our foremost priority.
Provide honest and dedicated caregivers 24/7.
Develop and maintain a comprehensive plan for care.
Assist with personal care, meal preparation, toileting, and mobility.
Manage medications and doctor's plan of treatment.
Coordinate and accompany to doctor visits.
Encourage and create social activities.
Establish home safety and emergency preparedness.
Communicate regularly with family to ensure peace of mind.
Registered nurse check-ins available to address concerns.
Protect the health and safety of our patients, caregivers, and staff.
Frequent visits by care managers to ensure we deliver on our promise.
Our Promise

At AstraCare, Quality of Life is a Priority. As the owner of AstraCare, I pride myself each day for the difference we make in people's lives. My commitment to you and your family is steadfast. I will do everything possible to ensure that we pair you with a caregiver that is a perfect fit for your family. She or he will understand your needs, respect your culture, and work diligently to ensure your comfort and well-being. You can depend on me to provide consistent outstanding care. One of our registered nurses will be pleased to make a free home visit or call and assist you in working through your needs to determine a plan of care for you or your loved one.
For Peace of Mind, Join Our Family.
Care Personalized to your Needs
Fully Licensed and Trained Staff
For the best option in local short-term or long-term care providers, choose us for the compassionate services you and your family deserve.
Outstanding Service– We provide service in Broward, Palm Beach, Miami-Dade, Martin and St. Lucie Counties.
24/7 Service– We offer 24/7 service for all clients regardless of needs.
Reliable and Affordable– We are licensed, insured and bonded to assure quality and professional service for you and your loved ones.
Experienced– We have over 20 years of experience in-home health care and provide only the best service.
Peace of Mind– Guaranteed. Please take a moment to click here and read our testimonials.
Client Testimonials
"My mother is 92 years old, has Alzheimer's, and needs specialized care. It is just beautiful seeing the love and compassion between Meri and my mother. I never worry and know I can trust her. They care for my mother like she was their own. I wholeheartedly recommend AstraCare!"
""AstraCare is extremely responsive and reliable. At our very first meeting, the patient care coordinator understood my mother's needs, gave me all the information required and followed through the very same day with the perfect solution. She did exactly what she said she would do when she said she would do it. No other agency did that!"
"Mom began to struggle with her daily care but didn't want a caregiver in her home. After a few close calls, she agreed to call in AstraCare. Tanya came right away, put her arms around us and provided the assurance and guidance we needed. Mom's caregiver now comes daily and does a wonderful job. With AstraCare handling her daily care, the time I spend with my mom is much more special."
Welcome to AstraCare!
You Can Always Rely On Us
Our caregivers are special people. They take joy in their ability to make a difference in the lives of the clients assigned to them.
We can assure you that every caregiver has a long reputable history of professionalism and expertise.
Take a look at our frequently asked questions or just send us a message and we will be glad to answer any questions you might have.
Short Term Care
Have you recently suffered an injury that is making mobility difficult? Do you care for a parent or loved one but need to take a leave of absence? Our short-term care services are ideal for keeping your family cared for while you attend to different matters. Whether you need help for a day, a week, or other shorter periods of time, we can assist you.
Live-In-Care
AstraCare home care service specializes in live-in care—care aimed at those older adults who elect to remain in their own homes rather than relocate to an assisted living facility or nursing home. Our goal, to provide a "worry-free" approach to home care, makes an undeniable difference in the lives of the clients we are privileged to serve.
Personalized Home Care
We personalized care to recognize and tend to your individual needs. We provide you and your loved ones with the opportunity to meet with caregivers before choosing the one that is perfect for you. Communication is one of our top priorities, and you can count on always being able to understand your caregiver, and have them treat you and your home with respect.
Long Term Care
Do you or your loved one have an illness or illnesses that requires extended periods of care? We can also assist you with long-term care choices. We specialize in patients with Alzheimer's, Stroke, Parkinson's, and similar illness or illnesses.
Extensive Training
Our caregivers undergo an extensive screening and training process, verifying all licenses and certifications, as well as detailed background checks, employment verification and reference checks.
On-Call 24 hours
Our first order of business is to provide excellent care and make a difference in the lives of the people we serve. We do not require a long-term contract for services, and we remain on-call 24 hours a day. We are proud to have a distinguished reputation for high-caliber caregivers.
Our Blog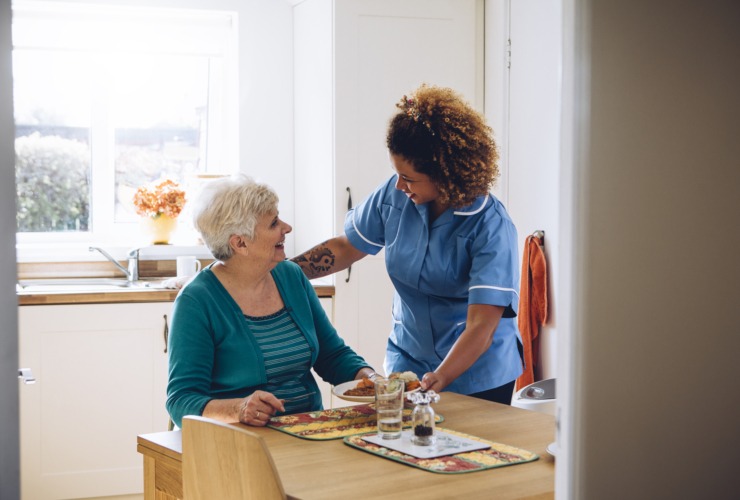 Many of us grow up viewing our parents as heroes. They take care of our every need, they support our hopes and dreams, they teach, they love, they guide.
Most people don't consider the day when they have to take care of a parent or a loved one. It's just not something we think about or plan for. Thoughts of our future typically center on business accomplishments, raising a family, maybe travel.
Everyone needs help sometimes. As our loved ones advance in age, there may come a time where they will need medical assistance or help around the house on a regular basis.